Darul Ifta Birmingham was established in July 2006 by local scholars who felt that the Muslim community needed a platform to voice their religious questions in search of answers. Darul Ifta Birmingham was thus founded on a philosophy to facilitate a greater understanding and awareness of the precepts of Islam. Indeed in the Holy Qur'ān we are instructed to "Ask the people of knowledge if you do not know" (Sūrah Anbiyā' V7) in matters of religion. Darul Ifta Birmingham hopes to enrich understanding by providing an Islāmic insight into queries and concerns for people from all walks of life. The Prophet of Allāh

is reported to have said: "Whomsoever Allāh wishes to show goodness he gives him understanding of the religion." (Ṣaḥīḥ Al Bukhārī & Ṣaḥīḥ Muslim) Darul Ifta Birmingham, by the grace of Almighty Allāh was formed for the Muslim community to deal with the concerns and issues of the wider Muslim society.
Darul Ilm was established in August 2013 with the intention to produce the next generation of scholars and Imaams in the West for the Muslim Ummah.
Darul Ilm offers the Full-time and Part-time Alim & Alimah class in our premises which is based in Birmingham, but also provides these courses online via the innovative system of Wiziq.
Darul Ilm offers an online format, which means that all you need is an internet connection and a computer, to attend a class from anywhere in the world. We attempt to duplicate the classroom experience as much as possible in a virtual setting. Live sessions and other communication platforms facilitate interaction and allow students to ask questions.



The Four Imams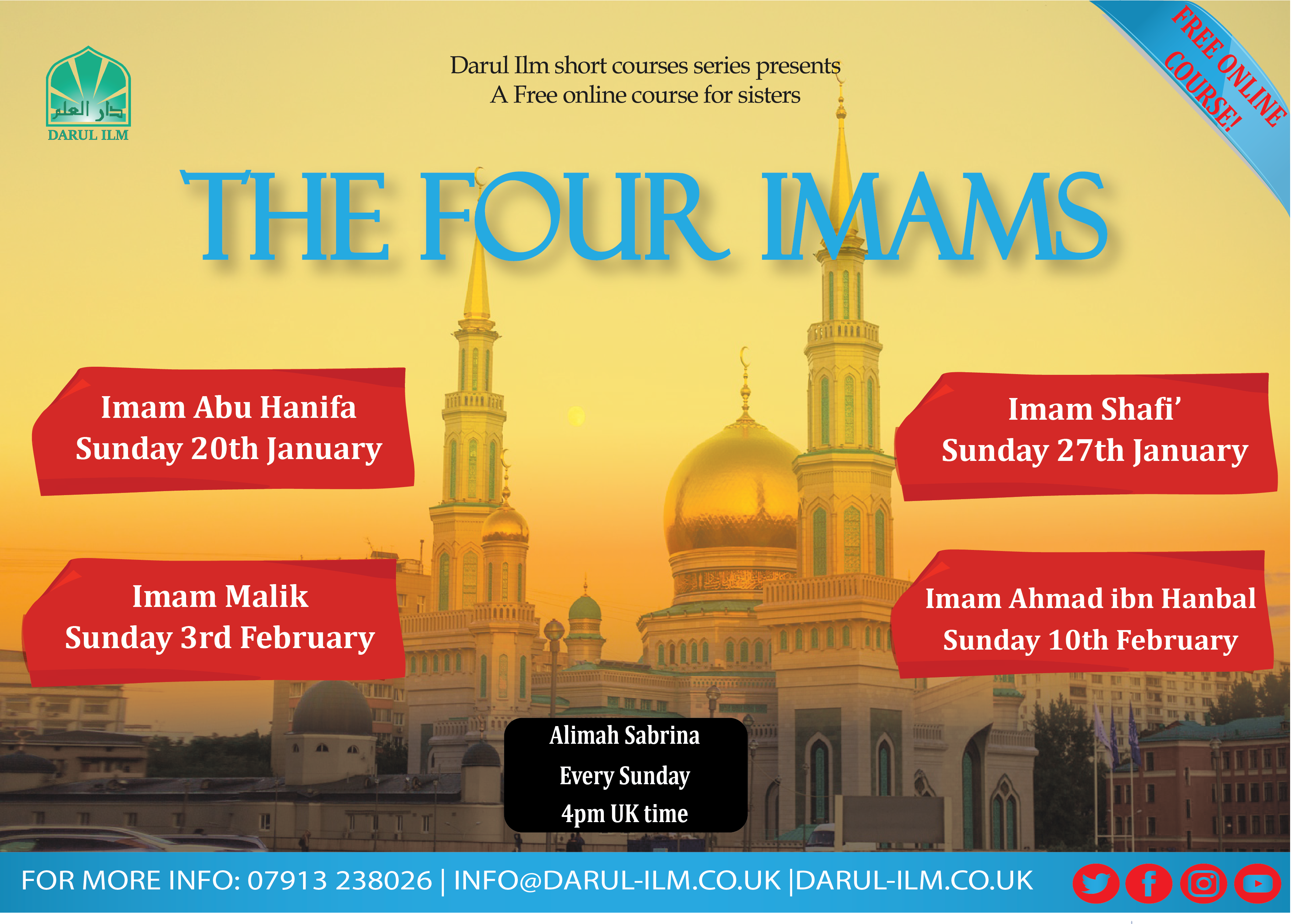 Darul Ilm Birmingham
Short course series presents
AN UPCOMING FREE COURSES FOR SISTERS
THE FOUR IMAMS
Courses delivered
By Alimah Sabrina
(Student of Mufti Tosir)
Sessions will be delivered over four Sundays at 4pm
For more info or to register for the course contact:
Phone:07913238026
Email: info@darul-ilm.co.uk
www.darul-ilm.co.uk
105 Walford Road
Birmingham B11 1ql
Darul Ilm in Hong Kong

A series of lectures for our brothers and sisters in Hong Kong

An amazing opportunity for our brothers and sisters in Hong Kong to sit and learn about their deen in the company scholars